Infotour to the Tetnuldi Ski Resort was held (Photo, Video)
"TETNULDI" - four months before the opening of the new mountain resort in the Caucasus
5-7 August in Svaneti was held info tour to the new ski resort Tetnuldi for representatives of the Georgian media and tour operators
Deputy Minister of Regional Development and Infrastructure Eka Sepashvili and the director of "Tetnuldi Development", Uka Kiladze hosted the guests. Journalists and representatives of tourist companies visited the tourist infrastructure and ongoing works, and were informed about the prospects of the resort development.
At the moment on the slopes of Mount Tetnuldi continues an active construction, the opening of the ski resort is planned for December 15 this year.
This year completed the first phase of construction - excavation and design of slopes, work on the creation of infrastructure, energy and water at the resort, the installation of three ski lifts. The costs for the implementation of this phase of the work amounted to 40 million Euro. The construction of the resort was funded from the Georgian goverment budget and supervised by the Ministry of Regional Development and Infrastructure of Georgia.
Ski Map of Tetnuldi Ski Resort, season 2015/2016: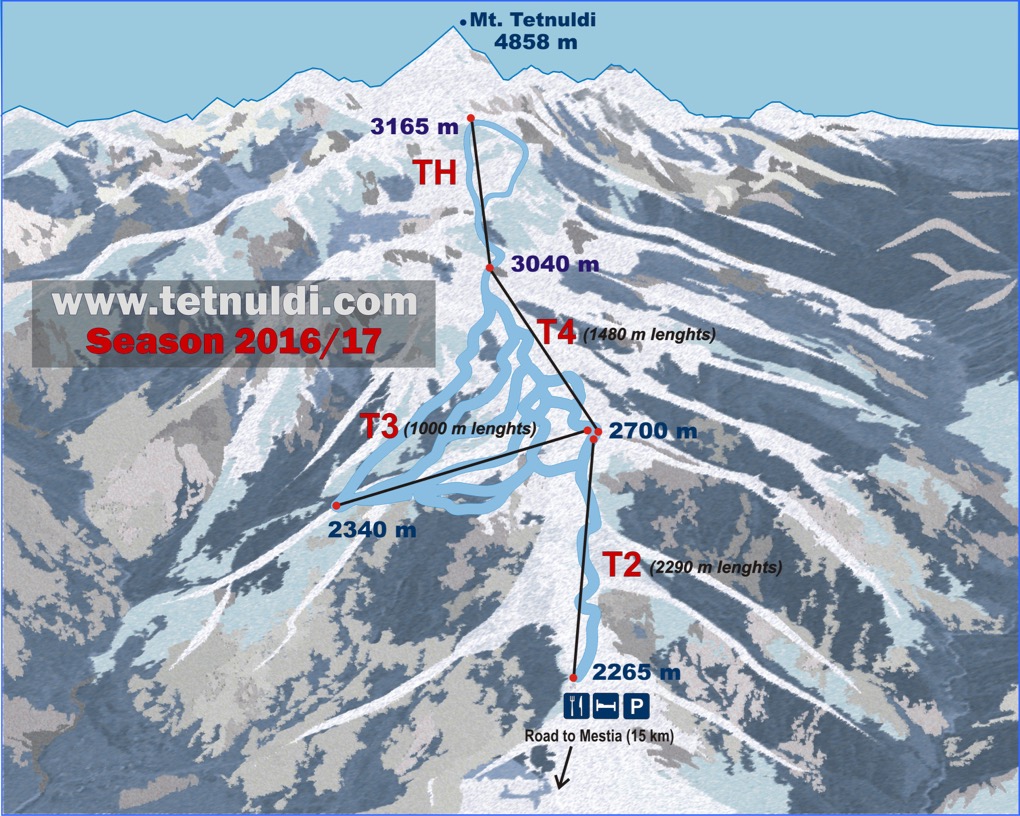 The opening of the resort is planned for December 15, 2015, if the external circumstances and the weather does not interfere with the progress.
Follow the news on tetnuldi.com - closer to the winter season will be organized low cost promotional tours for groups by bus from Tbilisi and Kutaisi for the opening of the resort Tetnuldi and for New Year celebrations.
Photos from promo-tour to Svanetia
The video of Imedi TV
On a newly built ski resort Tetnuldi по ссылке в новом окне...
The video of TV Maestro
About the information tour to the ski resort Tetnuldi:
The video of Ministry of Regional Development and Infrastructure of Georgia
About the information tour to the Tetnuldi Ski Resort:
It has been read
8547
times
Next article
Project of the new Georgian ski resort Tetnuldi